UNESCO Global Network of Learning Cities
According to UNESCO, more than half of the world's population lives in cities. In 2030, this indicator will exceed 60%. We need to face this challenge to ensure cohesion and balance for cities and urban communities. One of the methods to support urban agglomerations is a lifelong formal and informal education of its citizens.
UNESCO Global Network of Learning Cities originated from this belief in 2015. Today, it comprises over 200 members. Up to three cities from a given country enter the network each year. In 2019, Gdynia became the first Polish participant in the international group of learning cities.
The idea of lifelong learning is fundamental to sustainable social, economic and environmental development. Studies have shown that lifelong learners are better prepared for changes in private and public life. Quoting the words of René Maheu, "Education unbiased against age and social status will play a key role in building civic attitudes and in the transition to sustainable societies. It's an approach that not only prepares citizens for working and fulfilling their duties but also allows them to stay in touch with reality".
UNESCO defines a learning city as one that:
– effectively mobilises its resources in every sector to promote inclusive learning from basic to higher education,
– revitalizes learning in families and communities,
– facilitates learning for and in the workplace,
– extends the use of modern learning technologies,
– enhances quality and excellence in learning.
Supporting social inclusion in the learning process is done by:
– promoting formal and informal education for everyone and at any age,
– delivering online courses on topics relevant to local communities,
– creating opportunities to raise professional qualifications among immigrants,
– promoting intergenerational learning,
– providing vocational guidance,
– establishing mobile libraries,
– using culture centres as places connecting culture, art and science,
– opening volunteer programs for the elderly and disabled,
– encouraging citizens to participate in the municipal process of decision-making.
Due to its mission, EXPERYMENT joins the idea set forth by UNESCO. Collaborating with other Gdynia organisations assigned to implement the objectives of the Learning Cities initiative, EXPERYMENT prepares relevant tools and methods and ensures that the thematic scope of its offer meets various expectations and needs of citizens – from the youngest to school and student youth, to adults and seniors.
EXPERYMENT is a place for everyone regardless of age and education. A place that values constant growth, commitment and knowledge more than anything. SCIENCE IS EVERYWHERE!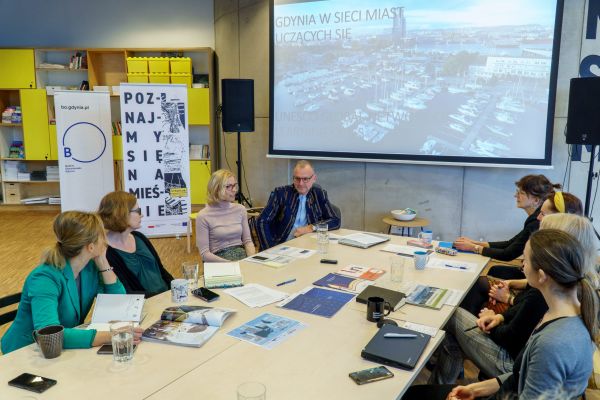 Membership certificate [946 KB]
contact Wanda Jaworska, w.jaworska@experyment.gdynia.pl, +48 503 468 866